Since I have been on here.... what is up with that!.... I would like to say it was because I have been sooooo busy creating & mothering that I just have not had the time to think... however... its mostly been beacuse I have been a bit of a funk... & not really "in the mood"... I am really tired of these cold drizzly days... & then the tease of spring one day & back to freezing drizzle the next... YUCK!... however... being the good host that I am... or hope to be rather, let me catch you up on my time away...
We watched the superbowl... not that we were pulling for anyone really, but still we watched... & got nice & drunk on the yummiest margaritas EVER!....
.... The new HDTV that hubs ordered DID NOT make it in time for the big game...
however it did arrive 3 days later & you would have thought that the kids had never seen television before...
the house has been full of ooohhhs & ahhhs over the new GIANT TV... geesh!
We also recieved our prize from
Baby Go Retro...
the most awesomest desiger EVER... Miss Bella has a ton of her stuff... you guys should really check her out... just search BGR on ebay!... or find her at www.babygoretro.com
Thank You Shelia!
oh & then we had Valentines... which was really busy & even now the day after... is still busy for my super chef hubs!...
But here is a recap of all of our "LOVE"-Ly events....
I know everyone in myspace land is wondering... did she get her wish... well, you can see the complete details there... but just so you know... after gruling class parties... with yummy cupcakes... & silly LoveBugs,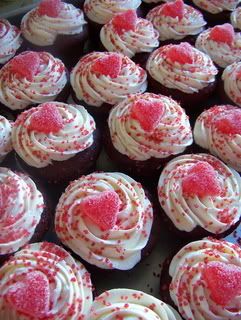 We came home yesterday to find the man of our dreams had left us surprises!
...for mommy.... &....
...for Miss bella
So all in all things have been good!... its going to ice AGAIN today... & I hope it does not ruin my plans for the weekend... but Im not holding my breath... maybe if I get a sec later I will get to share some great Friday Finds.... TTYL! :0)Tawny